Global Security: Through a Bosnian Lens
Part III of the Women & War Series
What can we learn about global security nearly two decades after the hugely destructive violence of the Bosnian War?
Despite the end of the armed conflict in 1995, Bosnia is still described as a country in "a perpetual state of crisis." Few easy answers exist on how to bridge the political divide, which is wider today than it was before the war.
USIP, in collaboration with the Institute for Inclusive Security, USAID, and Vital Voices, will host a discussion with Ambassador Swanee Hunt and USAID's Deputy Administrator Donald Steinberg on lessons emerging from the Bosnia conflict with a particular focus on the best ways to ensure a direct role for women in peace-building efforts worldwide.
Date: October 25, 2011; 3:00 pm – 5:30 pm
Location: U.S. Institute of Peace, 2301 Constitution Avenue NW, Washington, D.C. 20037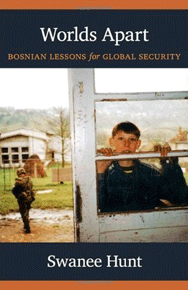 In her new book "Worlds Apart : Bosnian Lessons for Global Security," Ambassador Swanee Hunt draws from 17 years of work in the Balkans, particularly the gap between citizens living out the war and 'the internationals' deciding whether and/or how to intervene. From these stories, Hunt draws six lessons applicable to conflicts throughout the world.
In addition, film producer Abigail Disney and film director Pamela Hogan will present their PBS documentary, "I Came to Testify," that describes how a group of 16 women from Bosnia, victims of the war's systematic rapes, broke through political and societal silence by stepping onto the witness stand at an international tribunal. A panel discussion will follow.
Speakers Include:
Ambassador Swanee Hunt, President, Hunt Alternatives Fund; Chair, The Institute for Inclusive Security; Eleanor Roosevelt Lecturer in Public Policy, Harvard Kennedy School of Government
Donald Steinberg, Deputy Administrator, U.S. Agency for International Development
Abigail Disney, Producer of the film, "I Came to Testify"
Pamela Hogan, Director of the film, "I Came to Testify"
Mirsad "Miki" Jacevic, Chief Training Officer, Institute for Inclusive Security
Dr. Richard H. Solomon, Welcome; President, U.S. Institute of Peace
Kathleen Kuehnast, Moderator; Director, Gender and Peacebuilding Center, U.S. Institute of Peace